Know your rights...
New York City has the most extensive subway system in the world. Every weekday, over 5.5 million people ride the subway across its 472 stations. If you're one of them, you trust the Metropolitan Transportation Authority (MTA) to take you safely to school, work, and other activities.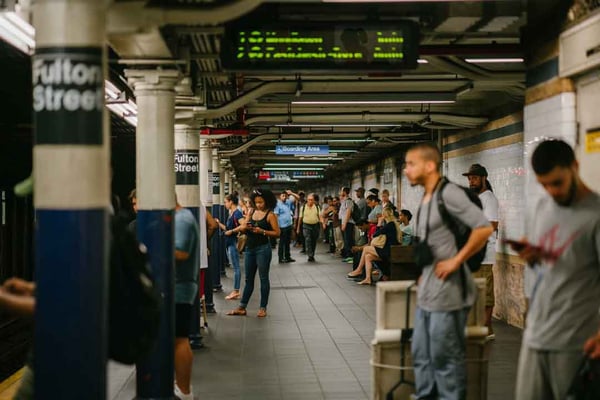 The subway experiences heavy wear and tear, but repairs and upgrades have not been kept up. Last summer, Governor Cuomo even declared the subway system to be in a state of emergency, with plans to expedite repairs and upgrades. If you've ridden the subway lately, you know not much has changed.
NYC Subway Accident Statistics
In recent years, outdated and unsafe infrastructure has led to subway accidents. We can help you if you've been impacted by incidents such as:
Derailments. The New York Times has reported on several subway derailments. Last year, over 30 people were injured when a subway train derailed in Upper Manhattan. The MTA determined that an "improperly secured piece of replacement rail" was to blame. Back in 2015, another derailment occurred when pieces of a crumbling wall landed on the tracks.
Pedestrians. For a variety of reasons, there is an increasing number of pedestrians on the subway tracks. In 2017, there were almost 900 incidents involving someone either on the tracks or struck by a train. New York City's open platforms are partly to blame, as people will try to retrieve dropped belongings, such as phones.
Experienced NYC Lawyers
If you or a loved one are injured on NYC's subway system, you need an experienced subway accident attorney. We have handled dozens of cases involving city-owned vehicles, including the MTA. We have even reconstructed subway accidents to determine negligence. We will work with the same determination on your case. Please contact us online, or call 212-986-2022 or toll-free 866-SMILEYLAW.
[Other Sources:
http://web.mta.info/nyct/facts/ridership/index.htm
https://www.governor.ny.gov/news/video-photos-rush-transcript-governor-cuomo-announces-1-billion-new-mta-funding-and-declares]