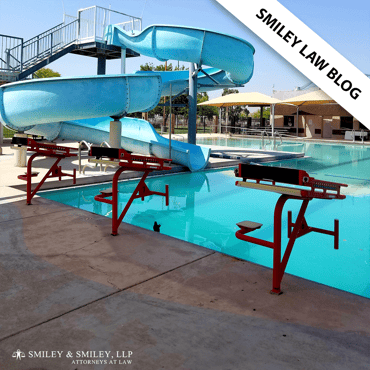 While not everything has reopened nationally, some states have eased restrictions and some pools are open. Regardless, however, on principle pool operators have a responsibility to keep people safe, so if you slip and fall at a public swimming pool, who ends up being responsible? Let's examine this.
Responsibility
Responsibility is a twofold path as the operator of the pool has a responsibility to keep people safe, but if you are injured you also have a responsibility to prove the following in your case:

-Duty
-Breach
-Causation
-Damages

These each come with their own responsibilities. Starting with duty, the pool owner has a duty to inform all those welcome on the property of the dangers of the pool and proper signage needs to be easily visible and legible by all those who visit.

When it comes to breach of safety this involves the pool owner's responsibility to keep surfaces from being slippery whether this is through the building material used or utilizing mats. If a pool failed to do this they may be held responsible.

This leads to the third factor, causation. As mentioned above, the pool owner is responsible for utilizing these tools to keep surfaces from being dangerously slippery, if they did not do that and you slip and get injured they can be held responsible for your damages.

If you received injuries and had to go to the hospital or missed work due to the incident, you can make a case and be compensated by the pool owner.

Conclusion

Conclusively, pool owners have a responsibility to keep you safe and the lion's share of fault can be on the pool owner if they do not implement proper procedures to keep you safe and you do get injured, however, it is still your responsibility to work to build your case and provide the evidence of said injuries.

For more information and advice, contact us below.