Seat Belts Save Lives
New York State's Occupant Restraint Law applies to drivers and passengers throughout the state, including New York City. If you are in the front seat of a vehicle, buckle up. If you are in the back seat, the seat belt restraints are now required for anyone under the age of 16 although everyone should use them. This law applies to drivers and passengers in vehicles from out of the state when in New York.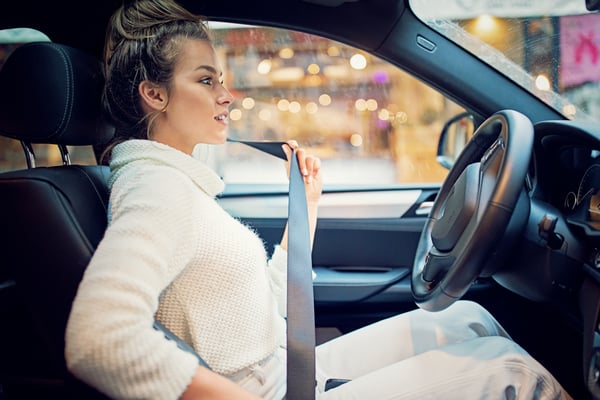 Front seat passengers over 16 years old and drivers can be fined up to $50 if they are not using seat belts. City and state law enforcement officials can stop and ticket drivers and passengers who don't comply with the law.
Child Restraints
All children must wear restraints when in a moving vehicle under the state law. Taxis, limousines, and Uber vehicles are exempt from the law. Those NYC transports are not required to have child car seats although some Uber cars and other transportation services have car seats available for an extra charge. Passengers with young children can also use their own child car seats and the cab or Uber driver should help with the installation. (Children under the age of 7 are allowed to sit on an adult's lap in a taxi although it is not recommended.)
Baby and child car seats must comply with a child's size and weight as recommended by the manufacturer of the seat. Special booster seats that use lap and shoulder restraints are now recommended for young children over 40 pounds who have outgrown their baby car seats.
Children under age four must use a federally-approved car seat that uses the LATCH system or the seat belt. Newer vehicles are equipped with the universal restraint anchorage system. An older child over four feet nine inches tall and weighing 100 pounds can use the regular seat belt with a lap and shoulder restraint.
The operator of a vehicle is responsible for all passengers, especially children. The driver can be fined $25 to $100 if passengers under the age of 16 are not using safety restraints. The driver will receive three penalty points for each passenger not using a car seat or seat belt.
New York State requires all school buses manufactured after 1987 to have seatbelts installed. Seat belts are required in all vans and SUVs. Children under the age of eight must have a federally-approved booster seat in vans, Suburbans, and SUVs operated by school districts.
The seat belt and child restraint laws are for the protection of drivers and passengers. New vehicles now have airbags in different locations in vehicles for more protection in the event of an accident. Vehicle manufacturers are always improving safety in new cars, trucks and other vehicles.
Contact Smiley and Smiley LLP Attorneys at Law if you have legal questions regarding the seatbelt laws throughout New York.