More and more, pets are being treated as "one of the family." Pet parents are spending large sums of money on high-end pet foods, toys, pet daycares, and travel expenses. Dogs and cats in airports is a trend that does not seem to be slowing down. As a pet parent, you need to know your rights when traveling with pets on airlines.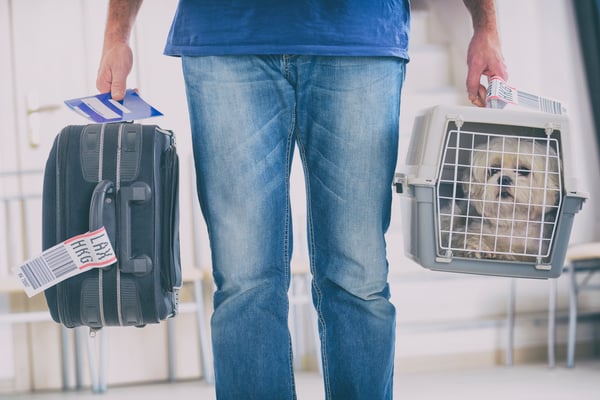 If you are going to take your pets on your next vacation, prepare yourself with the basic laws around pets and air travel. To avoid surprises at the airport, there are six things you need to know.
1. Who Makes the Laws
The United States Department of Agriculture (USDA) makes the rules and regulations for pet air travel. However, each individual airline can impose additional rules and fees. To look at individual airline policies BringFido has compiled every airline's pet policies. Hawaii is considered an international flight and follows a different protocol.
2. Common Airlines and Their Pet Rules
While each airline is different, there are several major carriers in the United States that allow pets onboard.
American Airlines: pets can fly in the cabin but must remain in a carrier and must be under 20 lbs, or they fly as cargo. Cabin cost $125 per carrier, Cargo cost: $200 per carrier
Delta: small pets can fly in the cabin but must remain in a carrier under the seat, or they fly as cargo. Delta limits the number of pets in the cabin to 8 total (two in first class, two in business class, 4 in economy). Cabin and Cargo cost $125 per pet
Frontier Airlines: small pets can fly in the cabin but must remain in a carrier under the seat. They do not allow larger pets as cargo. Cost $75 per pet per segment
JetBlue: pets under 20 lbs are allowed in the cabin and must remain in a carrier, only four per flight. No larger pets as cargo. Cost $ 100 per pet each way
Southwest Airlines: pets under 20 lbs are allowed in the cabin and must remain in a carrier, only six per flight. No larger pets as cargo. Cost $95 per pet each way
If you plan on flying with your pets, you must call your airline to make a reservation.
3. Flight Check-In and Arrival
If you are checking in with your pet, you must check-in at the ticketing counter, no pre-check-in is allowed. USDA law restricts pets traveling as cargo to be checked in more than four hours before your flight.
It is best to feed your pet 5 hours before flight check-in and if bringing your pet in the cabin, you should bring a small dish for water.
4. Pet Health Records
Your pet must undergo a health check from a licensed veterinarian. If your dog is flying as a carry-on the certificate must be within 30 days of the flight. If your pet is being transported as cargo, the certificate must be no more than 10 days before your flight. All dogs, except guide dogs, must have proof of Rabies vaccination in addition to their health certificate.
5. Cancellations Due to Extreme Weather
Airlines do have the right to prevent your pet from air travel in the case of extreme weather. Extreme weather is considered a temperature below 45 degrees or above 85 degrees. For brachycephalic, or flat-faced dogs like pugs, boxers or bulldogs, the temperature cannot exceed 75 degrees. If you are traveling during the summer, you should call your airline the day before to check on the temperatures to make sure they will still allow your pet to travel.
6. TSA Approved Pet Carriers
Whether you carry-on your pet or check them in as cargo, your pet carrier must be approved by the TSA. Just as we have guidelines for our luggage, pet carriers must meet these requirements:
- Have a waterproof bottom
- At least two sides must be ventilated
- Must have proper identification tags
- Should enclose your entire pet
- Close with zippers not snaps
Keep in mind each airline might require additional requirements for pet carriers and it is best to check with the airline when you call to make your reservation. There are many TSA approved pet carriers on the market. No matter which carrier you choose, you'll want to get your pet familiar with it before you head to the airport to reduce stress and make your pet's travel day easier.
What Can You Do If Your Pet Is Injured During Flight?
Pet deaths and injuries relating to flight are very low, but there is always a risk when traveling with pets. Your pet is considered baggage, whether you carry-on your pet or check-in as cargo. This means the "Baggage Liability Limitations" apply to your pet. These limitations state that an airline is responsible for lost, delayed or damaged baggage up to a set amount. This set amount varies by airline but is generally about $2,800, unless you declare a higher value and pay additional transport fees.
You can purchase liability coverage for your pets through the airline or a third party insurance company. If your pet is hurt or injured during flight, the best course of action is to speak with an attorney who can help you navigate the liability laws.