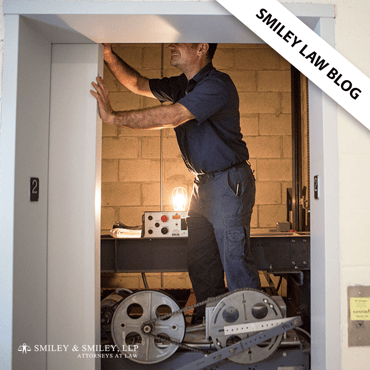 Even though elevators are an important part of architecture, and are used on a daily basis, they can pose a huge risk.
Research has shown that every year around 30 fatalities and 17,000 serious injuries are caused by elevators and escalators.
Additionally, elevator installation and maintenance has been ranked the sixth most hazardous construction profession by the U.S. Bureau of Labor due to the high number of elevator accident fatalities.
The Bureau reported that over a decade, 93 workers died while installing or repairing elevators while 28 died while working in elevator cars or shafts. A further 52 deaths of workers working next to elevators were reported. These figures are evidence of the risk posed for those working on elevators.
Just recently, a mechanic had to be rescued after sustaining injuries when the elevator dropped from the first floor to the basement when the mechanic was trying to push a safe out of the elevator and into the lobby. When the elevator unexpected dropped, the safe tipped over onto the mechanic trapping him. Rescue crews had to assist in removing the mechanic and rushed him to the hospital.
Why Do Elevator Accidents Happen?
There are many causes of elevator accidents in New York. These may include:-
Engineering Issues. Elevators are mainly controlled by cables and electric motors. Faults in the engineering system of an elevator can be attributed to the manufacturer. These can pose risks and cause accidents for both users and elevator workers.
Poor Maintenance and Inspection. Every state has elevator maintenance and inspection laws. When maintenance and inspections are poorly conducted, faults in the system can go unnoticed and endanger the lives of elevator workers as well as general users.
Workplace Safety Issues. Employers are required by the Federal Occupational, Safety and Health Administration (OSHA) regulations to offer safety measures for construction workers, including those installing and maintaining elevators. Gaps in safety precautions are a leading cause of occupational injuries amongst elevator maintenance workers.
When Should You File For An Elevator Accident Claim?
You should file for an elevator accident claim in Manhattan if you or your loved one are injured in any manner while inside or next to an elevator.
You should also file for a claim if your loved one dies from an elevator accident in New York City.
These are some of the other circumstances under which elevator accident claims can be filed:
If an elevator sensors fail, causing the doors to close in on a worker or user leading to bruises, head trauma, spinal injuries and broken bones.
If an elevator accelerates and decelerates suddenly, causing jerks and falls, which ultimately lead to head trauma, spinal injuries, broken limbs and compression injuries. Additionally, any sudden stops before or after a floor level that cause trips and falls, leading to electrocutions, spinal injuries, bruises and lacerations.
Elevator system failures that end up in fatalities.
Smiley and Smiley Law LLP is a New York City law firm with 52 years experience in helping construction workers to get compensation for their injuries.
Our elevator accident attorneys will handle your case with expertise and compassion, explaining every step of the case and its implications in ways you can understand.
Contact us today for free consultation if you or any of your loved ones have suffered an elevator accident.