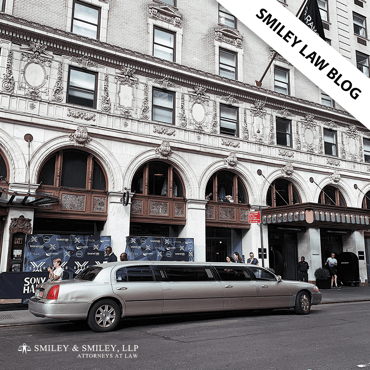 What to Do After Being Injured in a Limousine Accident
Riding in a limousine can be a lot of fun. However, the limo accident that claimed 20 lives in New York has become the deadliest transportation accident in the country since 2009. This tragic event has many wondering who is responsible. The tragic accident took the loves of 17 passengers, the driver and two bystanders. The accident left nobody to explain how the accident happened. Witness statements say the limo failed to stop at a stop sign and ran into a parked SUV at over 60 mph (ca. 97 km/h).
Whenever someone is injured in a limousine accident, they should know right away what their options are for legal recourse, if the accident was caused due to negligence. Liability can fall on the driver and/or the limo company, if the drivers were not properly vetted and trained, or if the driver was under the influence at the time. If it was proven that the limo have a defect or faulty maintenance caused the accident, then liability would fall on the manufacturer or service provider who serviced the vehicle.
Common Carrier Suits
Common carriers are any companies that offer transportation to the public as a paid service. They have a higher responsibility of safe driving than your average driver. If you were injured in a limousine accident, then you may have grounds for a personal injury suit against the driver, limo service or possibly both. Fault is a key factor in any common carrier accident. If a limo driver falls asleep at the wheel and crashes, liability would fall on the driver for his negligence. If a separate vehicle caused an accident with a limo, the at-fault driver would be responsible for the damages.
Proving Liability
Unfortunately common carriers including limousine services do not fall under the strict liability laws, so someone injured in an accident must prove that the carrier failed to prevent injuries to their customers. They must also prove that the limousine's failure was the cause of the plaintiff's claimed damages. You must also provide proof of the extent of the claimed damages.
Common carrier accident causes by negligence can lead to passengers suffering life-threatening or severe injuries like traumatic head injuries, and also other disabling injuries. When you or a loved one are seriously injured in a limo accident, you must first address medical needs and then quickly contact a personal injury attorney to discuss possible legal action.
Like similar personal injury lawsuits, a claim can help the plaintiff receive compensation for his or her medical expenses, loss of income, property damage and pain and suffering. Both the driver and company could possibly face punitive damages as well.
Contact Smiley Law to speak to a personal injury attorney today.