Injured By Flying Snow/Ice From A Vehicle?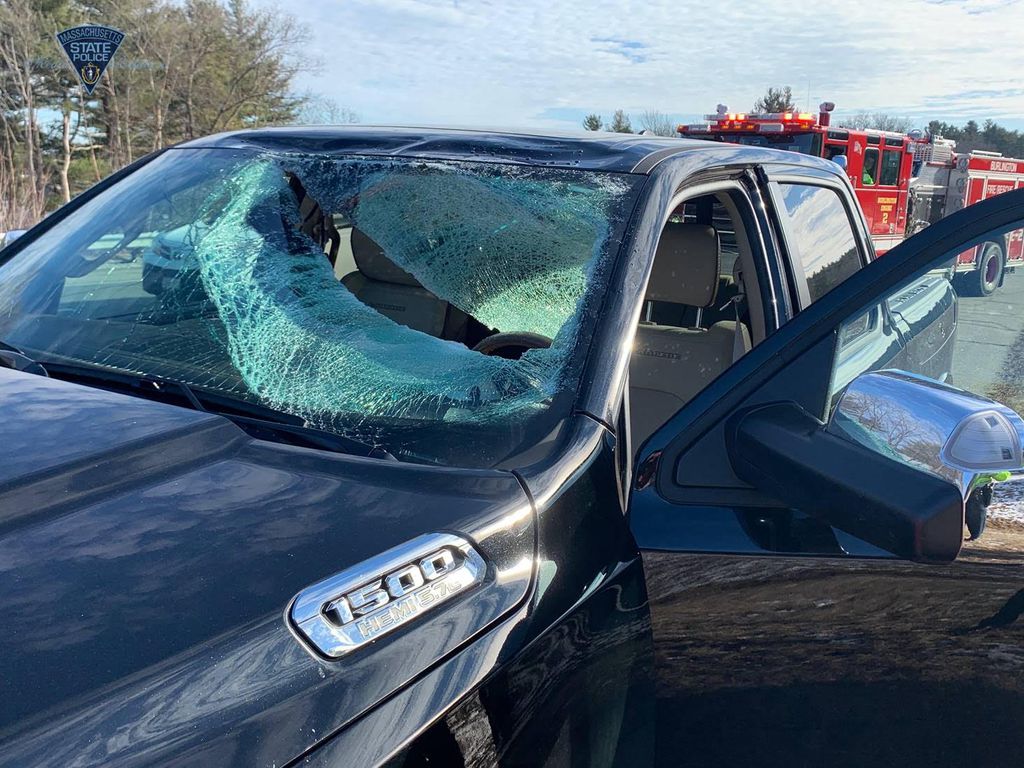 Snow and Ice flying off other vehicles and causing injuries and death are more common than you think. Just this week, according to the Boston Globe, a 40-year-old Newton man, was traveling northbound in a 2019 Dodge 1500 pickup truck on Route 3, south of Exit 26, in Burlington around 11:30 a.m. Thursday when ice hit his vehicle, slamming into his face, officials said. (Photo Courtesy of MASSACHUSETTS STATE POLICE)
Can It Happen Where I live?
If you are in an area that has snow and ice in the winter, you may see ice falling off of moving cars as people go about their daily business. Many people will just scrape enough ice off their cars to allow them to see through the windows, not bothering to clean the ice off the rest of their cars. This is especially common on larger trucks and buses, where reaching the roof to remove the snow and ice can be difficult.

The big chunks of ice left behind, especially on the roofs, will begin falling and they can end up hitting other cars on the road or pedestrians, causing property damage, injury, or even death.
What To Do If It Does Happen To You
If you are struck by flying ice, try to get the license plate number, or if it came from a large truck, the company name. Oftentimes, the driver is unaware that they have just caused this. If you can, try to get the driver's attention, and exchange insurance information with them.

The next thing to do is call 911, even if your injuries do not seem that bad. This is important because it gives a detailed record of your injuries, and damage to your vehicle if you were driving. The police can also help track down the driver of the vehicle the ice came from if you were not able to flag them down. A police report is an important part of an insurance claim, or a personal injury lawsuit if it comes to that, so getting that even if you are not sure if it is really necessary, can be vital to any legal action you take.

Document everything with photos, all of your injuries, along with all of the damages to the car. If any witnesses stop, make sure to get their contact information for any insurance claims or if you end up suing the driver of the other car.
We Are Here To Help
If you have suffered injury caused by flying snow and ice, and would like to seek legal advice, then please just click here to contact us.