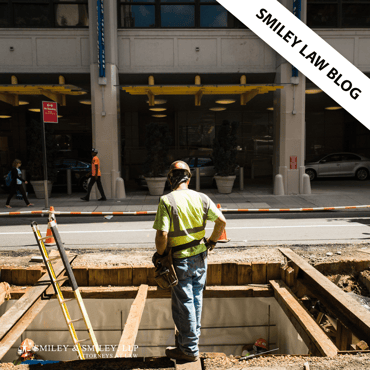 The Background
It is no secret that MTA construction accidents during installations or maintenance on New York subways can happen to anyone passing nearby at any time. The occurrence of these incidents leaves passengers and pedestrians alike hurting or in emotional distress. Pedestrians are more likely to sustain injuries, yet most of these accidents are avertable.
According to a recent local news report by ABC7NY, a metal basket meant to catch falling debris plummeted and seriously injured a pedestrian in Brooklyn. The said protective metal basket that fell on a passerby was installed in the last year.
MTA's Negligence Led to My Accident, What Do I Do?
In the case you or someone close to you suffers from an injury instigated by the negligence on the part of MTA, do not be overwhelmed as the majority of accident victims often feel. In many states, it is quite challenging to hold government agencies like MTA to account. However, in New York, you need not worry when caught up in such a case. You can conveniently pursue legal redress.
As a person or entity involved in such an accident, the thought of getting compensated for any damages caused is actively running on your mind, right? Well, don't be afraid to go after it. However, before you embark on suing MTA for compensation, you will need an attorney.
Coming in the backdrop of personal injury, the last thing you need is an attorney that throws all manner of overwhelming and confusing legal terms at you. Here is what you do, secure yourself the services of an experienced attorney who understands New York's protections for persons hurt in accidents involving MTA. Having secured one, you may proceed to file your claim against the MTA.
Filing Your Claim Against The MTA
You will probably find yourself wishing to expedite the process of filing your claim, right? Well, to avoid making the process stressful, you need to submit your claim within 90 days of your injury. You will fill out an official notice will contain information about the accident. This may include:
-Your name and address plus the contact of your attorney
-The description of the accident
-The location and time when the accident that caused your injury occurred
-The type of injuries you have sustained
-Property damage caused by the accident
Proving Your Claim
Normatively, the government responds to your claim within 30 days. A hearing in which the victim testifies the circumstances of their injury may be requested. Afterwards, you get to file a legal suit in what is the final stretch in your quest for compensation. Once your attorney successfully prosecutes the plaintiff's case, and the verdict is out in your favor, you win compensation.
Contact A Proficient MTA Accident Lawyer in NYC
If you have sustained injuries from falling objects, looking for a personal injury attorney, you can trust can be a hassle. A professional MTA accident attorney that is skilled in the litigation of lawsuits involving falling objects is just what you need.
When it comes to MTA lawsuit settlements, Smiley & Smiley LLP Attorneys at Law has successfully represented and helped falling debris accident victims win compensation. With our vast experience, our personal injury attorneys will strive to do the same for you. For more information, contact us today.