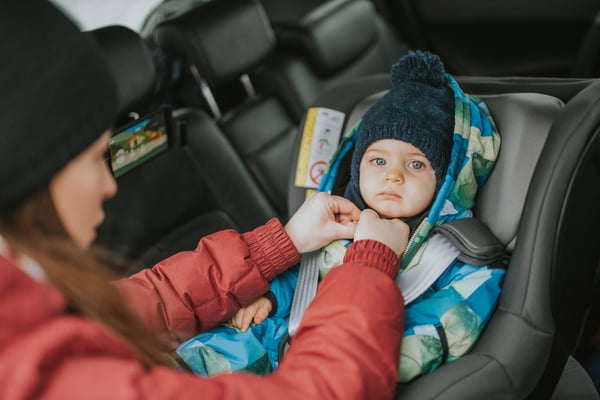 Several organizations, including the American Academy of Pediatrics (AAP) and Consumer Reports, have spoken out about the hidden dangers of children wearing bulky winter coats while in a car seat. In a car crash, a bulky jacket will flatten against the force of the harness, creating extra space between the straps and your child. Additionally, when the straps are too loose, a child can be ejected from their car seat.
Testing Your Child's Winter Coat & Car Seat
Consumer Reports recommends testing your child's coat by placing them in their car seat with their coat on.
First, tighten the straps until you can no longer pinch any slack.
Then without loosening the straps, unbuckle the harness and take your child's coat off.
Finally, re-buckle the straps. If the harness is loose enough that you can pinch slack, your child's coat is too puffy to wear while in their car seat.
These photos from Consumer Reports show just how much extra slack there can be.
How to Keep Your Child Safe and Warm
You don't have to trade your child's comfort for their safety. The AAP suggests these winter car seat safety tips:
Dress your child in multiple lightweight layers. For example, long underwear, a warm shirt and pants, and a fleece jacket.
Don't forget hats and mittens!
After strapping your child in, cover their seat a blanket. You can also drape their winter coat over the car seat.
Use caution when purchasing specialty car seat covers. Just because a product is sold in stores doesn't mean that it is safe to use. Also, if a child becomes too hot, they may not be able to remove the cover like they can a blanket.
NYC Car Accident Attorneys
If you or your child were injured in a traffic accident, contact us today for a free initial consultation. At Smiley & Smiley, LLP, our attorneys are experienced motor vehicle accident attorneys. We'll aggressively defend your rights and pursue any compensation you may be due.