Do I Need A Scaffolding Accident Attorney After An Injury?
In addition to OSHA and general liability law protection, construction workers in New York enjoy legal protection in the event of a scaffolding-related accident by Section 240(1), also known as the Scaffold Law.
The Scaffold Law specifically governs the use of scaffolding, ladders and other devices used by employees working at dangerous heights.
When contractors and building owners fail adhere to the guidelines established by 240(1), injured construction workers have the legal right to pursue financial compensation for injuries.
In this case, workers hurt in scaffolding accidents should seek an experienced team of attorneys to obtain financial relief for medical bills and lost wages.


How To Know When You Have A Scaffolding Accident Case
Did you fall from a ladder, scaffold or beam? Was a guard rail broken or missing from a construction elevator or catwalk? Did scaffolding or a ladder break, injuring you or a loved one?
Very likely, it's indeed time to find a law firm to seek just compensation for your scaffolding injury.
The New York City scaffolding injury lawyers of Smiley & Smiley, LLP, have handled construction site injury cases since our firm was founded over 40 years ago.
We are more than just experienced litigators; we are leaders in personal injury and litigation legal organizations like the New York State Trial Lawyers Association and the Combined Judicial Screening Panel of the City of New York.
We are litigation educators at Brooklyn Law School (BLS) and attorney organizations across the city. Our track record includes dozens of seven- and eight-figure verdicts and settlements for injured clients.
A representative case illustrates our effectiveness in handling scaffolding and fall accidents. While working on multi-story mainframe computers, our client (a construction worker) fell from an elevated catwalk which, unknown to him, had been partially dismantled.
His resulting 15-foot fall caused multiple fractures and brain trauma. Our representation resulted in a $1.2 million recovery.
Our experience and our investigation skills are unmatched as scaffold accident attorneys. When we accept a scaffolding accident case, we give it the time and resources necessary to fully examine the evidence and locate all liable parties.
Once we have determined fault and damages, we fight aggressively for each client's maximum compensation in negotiations and, whenever necessary, in court.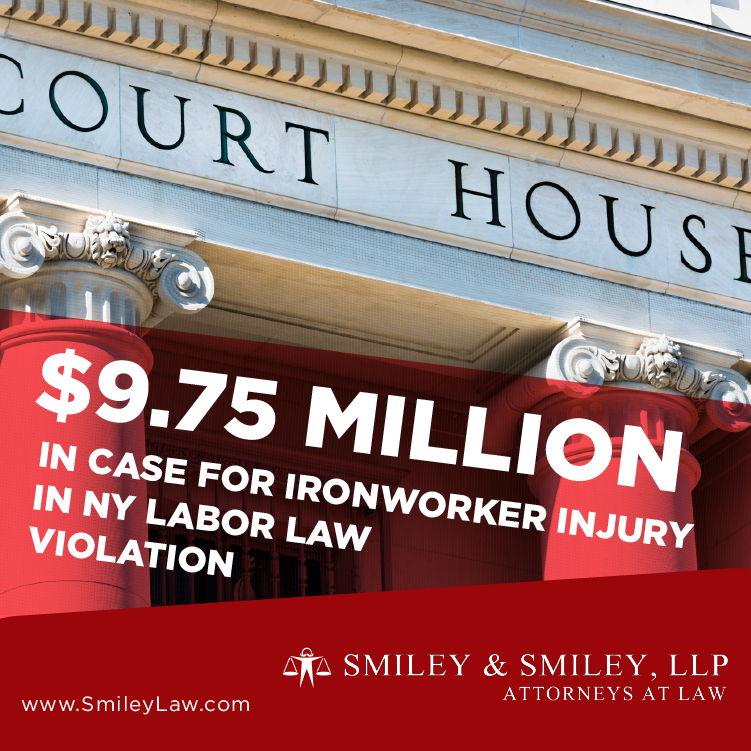 Real Benefits of Hiring A NYC Scaffold Accident Attorney
Being injured in a scaffolding accident is an understandably scary and overwhelming experience. What to do first? What actions are in your best interest and what might hurt your chances of obtaining fair compensation for your medical bills and your lost wages?
The construction company and/or the property manager will certainly have a legal team of their own actively trying to avoid having to pay out any damages to you. You're at an unfortunate disadvantage taking them on without representation since their legal team will know how to keep the narrative of events in such a way that you are far less likely to receive a favorable resolution.
Even if they pay, they will generally pay far less than what you could likely compel them to with an experienced scaffold accident attorney in your corner.
As your personal injury lawyers, we will:
Hold the construction company or property managers accountable. Even if the responsible party is the State of New York.

Deal with insurance companies that will try to drive down the value of your claim and ultimately pay you less money.

Defend you against counter-allegations that you are responsible for your injuries.

General Scaffolding Provisions in New York
NY Statute Section 23-5.1 holds a series of general provisions for all types of construction scaffolds. A few very important items that may come into play in your own situation include:
All scaffolds must be secured properly, meaning they can't be attached to barrels, equipment, or anything else that is temporary and unstable. If a scaffold is improperly secured and there's an accident, there's clear grounds for a lawsuit right there.
Each scaffold must be strong enough to support 4 times the maximum amount of weight it will likely bear during use. So if it needs to support 1000 pounds for workers and gear on the job, for instance, it needs to actually be able to support 4000 pounds to be considered safe.
All scaffolds must have sufficient bracing to prevent lateral movement, meaning the scaffold should not be able to sway from side to side while someone is on it.
All scaffolding must be regularly maintained, and constructed of "stress grade" materials with an "f" grade of 1500 psi. This speaks to strength and durability.

There are more provisions, but those are the big ones that often lead to scaffolding accidents. We share them here to provide an opportunity for you to see something familiar, something that you know applies to your situation, so you can affirm you likely have a good case as you call.
We invite you to contact our law firm to learn more and tell us about your scaffolding accident. We have decades of experience in exactly these types of personal injury cases

Contact Us
For more information about our firm and your rights following scaffolding and construction worker injuries, contact us for a no-charge consultation. Smiley & Smiley, LLP, is available 24 hours a day, seven days a week.
Our law firm is conveniently located in Midtown Manhattan across from Grand Central Station at 122 East 42nd Street, 39th Floor. Our staff includes speakers of Spanish and Haitian Creole.
Contact a New York City scaffolding injury lawyer online, or call 212-986-2022 or toll free at 866-SMILEYLAW.