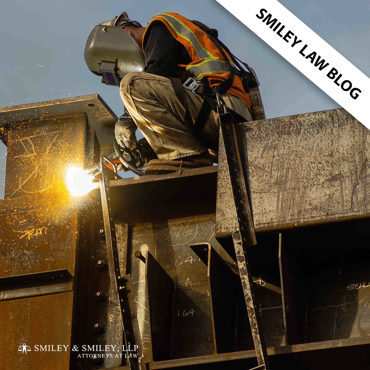 Construction workers have one of the deadliest jobs out there—working with and under heavy, dangerous equipment every day. According to the U.S. Department of Labor, the percentage of injuries to iron workers is among the highest of all career fields. Men and women in the iron working industry face an array of dangers varying from muscle strain to burns and falls.

Because of the uncomfortable positions and small spaces iron workers have to get into, they face a very high risk of pulling and straining their muscles. Tying rods together and bending over causes constant back strain. They work with very heavy equipment that has to be lifted and carried various distances and loosen rusted and ceased bolts.

Iron workers often have to climb tall beams and reach high overhead beams while welding. Welding overhead for long periods of time not only causes muscle strain, but sparks and metal shavings are constantly falling all over the worker, which can cause significant burns and cuts if the proper gear isn't being used. Not only can spatter be damaging, but even the rays can cause heavy damage to the skin and eyes. Grinding and using pneumatic tools, iron workers also risk damaging their hearing.
Falls are one of the most significant risks iron workers face. They climb and work on top of thin beams, often looking up and twisting their bodies into awkward positions. They often work off of the ground and in severe weather conditions. Winds can push workers off of beams and scaffolding, and extreme cold causes surfaces to be slick, which increases the risk of a fall.

Iron workers work daily with shears, sharp metals, and hot tools in dangerous positions. They must always stay alert and wear proper safety equipment to avoid permanent injury or death.

Smiley & Smiley, LLP. has decades of experience finding financial restitution for those who have suffered an injury on a dangerous job site. Whether you are seeking reparation for yourself or a loved one, Smiley & Smiley is dedicated to getting your family back on its feet. For information, call 212-986-2022 or click here.