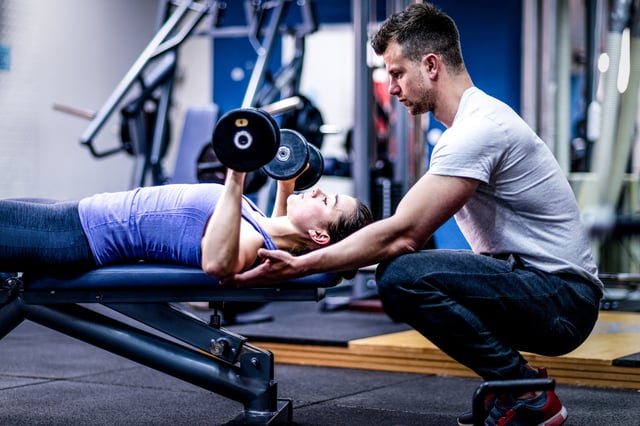 Many people trust personal trainers with their physical well-being. They literally put their bodies on the line under the assumption that trainers can supervise their exercise safely and with expertise. However, a personal trainer's negligence can have serious - and painful - consequences.
A New York woman suffered those consequences when a trainer at her Brooklyn gym failed to assist or spot her during an exercise she had never performed before. During this exercise, her foot became caught on a piece of equipment and she fell backward, fracturing both of her wrists. Her injuries required two reductions, permanent hardware in her wrists and roughly four months of missed work.
Represented by the New York personal injury law firm of Smiley & Smiley, LLP, she sued her trainer for negligently recommending an unsafe exercise, as well as the gym and its operator. The defendants contended that the woman failed to follow the trainer's instructions, that she should not have performed an exercise she suspected to be dangerous and that her contract with the gym acknowledged that she assumed the risk of gym injuries. However, the attorneys of Smiley & Smiley noted that the contract specified that the gym was liable for any injuries stemming from negligence of the facility or its employees.
After a jury found that the defendants were completely liable for the accident, but before damages were determined, the parties negotiated a $300,000 settlement for the woman's past and future pain and suffering.
About Smiley & Smiley, LLP
The New York City personal injury law firm of Smiley & Smiley, LLP is a Midtown Manhattan family owned and operated firm that has provided personal injury legal representation to thousands of individuals and families since 1968. The attorneys at Smiley & Smiley, LLP represent victims in personal injury matters including vehicle accidents, construction accidents, medical malpractice, nursing home abuse, wrongful death and premises liability accidents.
The firm's many successes in personal injury cases also include a $14.3 million verdict against the City of New York and an $8.6 million award for a victim of 9/11. The firm has also obtained a $5 million settlement for a wrongful death suit involving a painter killed at the World Trade Center reconstruction project and a $5 million settlement for the victim of a bus accident.
If you have been injured due to someone else's negligence, an experienced personal injury attorney may be able to secure compensation for your injuries. To contact Andrew J. Smiley or his colleagues at Smiley & Smiley, LLP, please call (212) 986-2022 or visit http://www.smileylaw.com.